El Muro
Nickname
El Muro (The Wall)
Real Name
Francisco Ricardo
Nationality
Mexican
Age
41
Role
Personal Bodyguard of El Sueno and Head of Security.
Personality
Cold, ruthless and professional.
Quote
"We are men out here in the wild. We don't play these pinches morritos games."
El Muro is one of the Characters in Ghost Recon Wildlands. He is one of the main members of the Santa Blanca Cartel.
History
El Muro (The Wall), the head of security for the Santa Blanca cartel, is also El Sueño's childhood best friend and personal bodyguard. Cold, highly trained, and professional, he could be considered the cartel equivalent of a Ghost.
Francisco Ricardo was born in poverty and grew up on a farm next to the huge mansions belonging to the drug lords. Life was ruthless there, and El Muro would say about his birth, "They cut my umbilical cord with a shard from a broken cocaine mirror." His friend El Sueño left the village when he was 11 years old, and El Muro followed him soon after, joining the Mexican military and rising through the ranks. These days, El Muro provides protection for the Santa Blanca cartel, making sure that every division can operate in safety by taking care of issues ranging from the Kataris 26 rebels to the Unidad forces.
Sam Strachman, says, "El Muro is a beast. This is a guy who has his people pass a polygraph before they get their paychecks each month. And if they fail … yeah. Don't fail." [1]
Media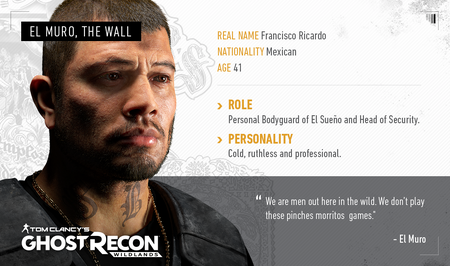 References