El Yayo
Nickname
El Yayo (The Grandfather)
Real Name
Rudolfo Yana
Nationality
Bolivian
Age
72
Role
Head of Production.
Personality
Pragmatic, leader.
Quote
"Simon Bolivar said that the United States was destined to plague the Americas with misery. And now that misery is upon my house."
El Yayo is one of the Characters in Ghost Recon Wildlands. He is one of the main members of the Santa Blanca Cartel.
History
Rudolfo Yana, aka El Yayo (the Grandfather), is a man willing to work with anyone to protect his people. Some would call him a traitor, but others would define him as a true survivor.
El Yayo was a coca union leader, but his ambition quickly led him to become a major drug producer in Bolivia. He first organized the cocaleros into a medium-level cocaine production operation. But when the Santa Blanca Cartel set its eyes on his country, they threatened El Yayo's family and he was forced to work for them. He's currently the highest ranking Bolivian in the organization.
El Yayo prefers making deals over resorting to violence, but his traditional values could become a problem if the drug production demand continues to grow. Under pressure, El Yayo will have to choose where his loyalty lies.
According to the narrative director, Sam Strachman:
"El Yayo is interesting because he works for Sueño as a way to protect his family and his country. He doesn't produce cocaine by choice. He does it because it's the only way to keep his people alive. At the same time, he has this attitude of, 'If you want me to stop making it, then you should tell people to stop buying it.'"[1]
Media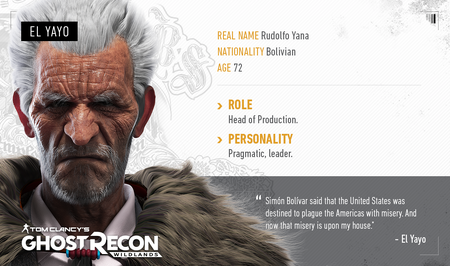 References