Welcome to both returning and new Ghost Recon fans, to the Ghost Recon Wildlands Wiki!
Greetings! Whether you're a returning experienced Ghost or it's your first time playing a Tom Clancy's game, it does appear you've made the plunge and are interested in Ghost Recon Wildlands. The world of the Wildlands can perhaps be a bit intimidating if you haven't yet played any of the prior releases, or quite a bit has changed if you have, so sit back relax and read up on How To Play Guide For Ghost Recon Wildlands; your guide to the basics on Locations, Characters, Weapons, Gear, TACMAP as well as quite a few other things like Easter Eggs and Supplies.
Basics / Game Setup
Alright, now that you know what to expect, let's hop into the basics and get you into your first experience.
Difficulty: Here, you can choose the difficulty of the A.I. inside the game, note that the harder levels will make you crazy unless you love pain or unless you're an expert shot.
Character Creation: Give yourself a few moments to set your look and specific style, and note that once saved you won't be able to make changes.
Bolivia: Get on the road! The world is open and you're free to go wherever you want, search for weapons or take on massive amounts of enemies at once, but you'll be better off checking out a few missions and a few basic upgrades and weapons to have a different style for those harder (level 5 missions).
Locations, Ecosystems and Content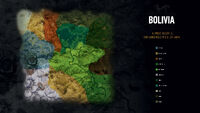 See also: Cities & Points Of Interest for finding that specific weapon or Easter Eggs.
There are 21 Provinces in Bolivia (the world of Ghost Recon Wildlands), and most if not all have their own Biomes, known as the various Ecosystems. You'll start off in Itacua, where your first Mission will take place, after meeting Karen Bowman and arriving in the country. You're free to travel wherever you wish, but things might be a bit difficult without proper armament and firepower. Finding proper tools early on will help you to take out the difficult factions of the Unidad and the Santa Blanca Cartel along your journey, so exploring the various Weapon locations can be profitable in the long run, in addition to the proper Province Content: Weapon Cases (Additional and new Guns), Accessory Cases (Gun attachments which give your guns better bonuses), Skill Points (allowing you to upgrade your Skills in 6 different skill trees) and Bonus Medals (Giving you the upgrade potential). You'll also need Supplies, which you'll find and be able to tag for the rebels that will allow you to upgrade later on.
The Provinces
Barvechos  • Caimanes  • Espiritu Santo  • Flor De Oro  • Inca Camina  • Itacua  • Koani  • La Cruz  • Libertad  • Malca  • Media Luna  • Mojocoyo  • Monte Puncu  • Montuyoc  • Ocoro  • P.N. De Auga Verde  • Pucara  • Remanzo  • San Mateo  • Tabacal  • Villa Verde
The Characters
See also: A List of characters to find the specific Boss and tricks to beat them.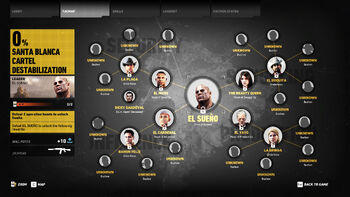 Each of the various Provinces have their own bosses Characters based on the hierarchy, all of which are connected to El Sueno, the boss's boss through the Santa Blanca Cartel. You'll need to get through a few of them before you can connect to him and bring him out from the shadows. Here's a list of a few of the people you'll need to get in contact with.
Keyboard Controls / Hotkeys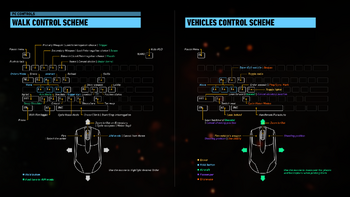 Key bindings can be set in the Game Options menu. For each key there is a primary binding and can be bound to a different hotkey, depending on your choosing.
Movement

Interaction

Other Controls

W
Move Forward
I
Skills
C
Crouch
A
Move Right
H
Stow Weapon
X
Aim Mode
S
Move Left
J
Loadout
Z
Swap Weapon Shoulder
D
Move Backward
K
Faction States
SHIFT
Sprint
Q
Drone
L
Lobby
ALT
Walk / Run toggle
E
Interact
M
TACMAP
CTRL
Prone
R
Reload
SPACE
Cross/Climb
Start/Stop interrogation
NumLock
Hide HUD
F
Use Item
B
Binoculars
ESC
Pause Menu
TAB
Orders Mode
V
Cycle Vision Mode
1 - 4
Weapons / Items
References
For more detailed information, check out the official guide on Gamepedia