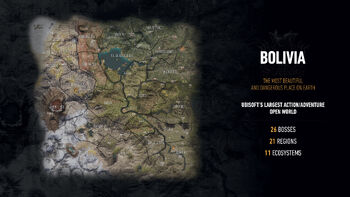 A list of the various Locations in Ghost Recon. Wildlands is based in Bolivia the hotspot for Ghost Recon in South America, but below are some of the places you can find in the game.
Each of the 21 provinces of Ghost Recon Wildlands is associated to a branch of the Santa Blanca Cartel, and the towns, outposts and camps found in each one are defended by enemies with access to different levels of Equipment. The less important positions will be defended by a few enemies equipped with standard Weapons, whereas the most important fortifications will hold high technology warfare as missile launchers, drone jammers and dozens of soldiers wearing body armor and carrying heavy weaponry. You will be the one deciding if you are ready for the challenge: you are free to jump to the most challenging provinces from the beginning, and if you realize you are not prepared for the battle, you can always lower the difficulty or return to less dangerous areas to find equipment and experience that gives you a decisive advantage.
The easiest way to check the level of difficulty of an area is through the tactical map: you will be able to see the level of challenge of each of the 21 provinces, which goes from one skull (a province without much enemy presence) to five skulls (a crucial place for the Santa Blanca cartel where you will not be well received). For example, Itacua, the province that could be visited during the Closed Beta, had the lowest difficulty score, making it the perfect place to become familiar with the gameplay, and the new province available in the Open Beta, Montuyoc, will be one of the more challenging ones of the entire game, so you will be able to experience first-hand the differences between them. In the final game, once you have finished the beginning missions, you will be the one who decides where to go first.
List Of Provinces / Cities
List Of Biomes
→ see Ecosystems for more information
Additional places