Los Extranjeros is one of the Factions in Ghost Recon Wildlands.
Description
Los Extranjeros is an elite group of ruthless mercenaries, as one of the Factions in Ghost Recon Wildlands. After your chopper is shot down during an evacuation mission, your squad will be forced to adapt as you are tracked down by this group.[1] This organization was brought in by Unidad to clean up the mess that Nomad's team caused during Operation: Kingslayer. They were made up of many former various Special Forces and Special Operations units worldwide into a singular organization known as Los Extranjeros or the 'Foreigners'.
Archtypes
Armored brute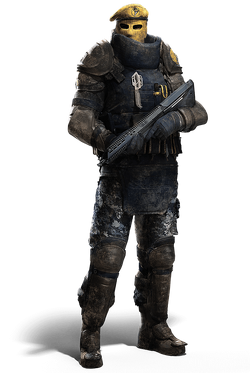 A heavily armored brute, equipped with steel pads and carbon fiber joints.
The ARMORED Extranjeros can only be hit in the head. This enemy subtype is a heavily armored and armored soldier with the new rifle MDR. While the description is true. If you use your melee attack with the knife. You can kill him instantly by placing the knife between the armored plates and striking the artery. He won't feel it. Nor will he be able to make a sound. And with the weight he's lugging around. He won't be able to hold himself up.
Tactics
When dealing with the Armored Brute he's not only hard to kill. But seemingly unstoppable. If you're playing in the Arcade or casual mode. You can Aim center mast and hit him in the chest a total of 3 times before you hit his head. It takes 3 Assault Rifle rounds to kill him. Or a singular Sniper Round.
They are also the toughest opponent of the main soldiers of the group to deal with. They are to be taken priority unless Covert Ops are in the area. As they have the most health. Charging a group of them such as at the Airport in the Western Province will be a major mistake to do so as they'll all begin to aide each other. Some of these soldiers carry shotguns and although rare. They pose a even higher threat and should be avoided at close range.
Covert Ops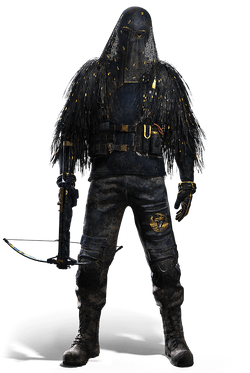 Hand picked for their scouting skills, these soldiers are equipped with a state-of-the-art optic camouflage device. The COVERT OPS Extranjeros use a crossbow and can't be tagged using the regular drone.
This soldier is a pesky one to deal with. When you're facing them off you'll soon realize one thing. They hide in bushes. And are extremely hard to see. They seem to use a 3D Camera to project whats around them as if they stand still they are impossible to see and very easy to miss. When they take aim however they have to drop their 'Cloak'. With the Crossbow they are entirely silent and in certain missions this proves deadly. As they area if hilly and going down hill your threat indicator is really no good anymore.
Tactics
The best tactic against them. If you feel you're around one. Chances are he's nearby positioning himself. Use your Thermal Vision visor to locate him in the dark. He gives off a light blue and dark blue aura. The closer you get to him the more yellow he becomes but he never becomes red.
References