Pac Katari
Pac Katari
Nickname
Pac Katari (or Pac-Man)
Real Name
Ramiro Apaza Nieves
Nationality
Bolivian
Age
32
Role
Leader of the Kataris 26
Personality
Charming and wize man who is in touch with the needs of his people. Acts with great respect for his land. Fair leader of the resistance who listens to everyone.
Is aware that he needs help to fight for and protect his people, but is not afraid to fight and bleed for what he believes is right.
Quote
"We fight for our land, for our freedom, we chose how we live and how we die. That is our right." - Pac Katari
Pac Katari is one of the Characters in Ghost Recon Wildlands. He is one of the members of the Kataris 26.
Throughout the game he will assist you with rebel support and thank the player for his assistance upon completing a rebel side op.
SPOILERS
When you have destabilized at least two organisations (smuggling, influence, security, and production), Pac Katari will claim that one of his rebels has a location on El Sueno. When you arrive the rebel is dead and Bowman is under attack. Bowman claims Pac Katari has betrayed her and the team. Then you have to arrive at El Sueno's mausoleum to confront him. El Sueno will turn around holding Pac Katari's head and lob it at the player.
History
An eloquent speaker with a deep knowledge of indigenous history. Loved by people.
Claims to be the direct reincarnation of Tupac Katari, indigenous leader who raised 40,000 troops in 1781 to siege the Spanish-occupied La Paz. When captured by the Spanish, Katari's final words were "I will be back, and I will be millions."
Lost his family in his war against the Cartel. Can't come to terms with it.
Notes
Specific: A natural-born warrior who believes in the force of nature and the balance between good and evil. Ready to kill to defend and to die if the moment comes.
Duality: Alliance with the CIA vs Loyalty to His People.
Endings: No matter which ending you choose Pac Katari will end up dead. If the player destroyed two organisations the rebels are noted to be falling apart. However the full ending shows the rebels overcoming Santa Blanca.
Media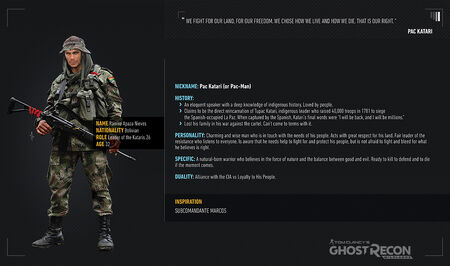 References