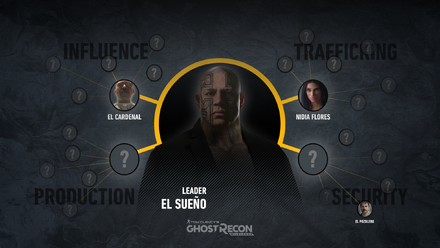 The Santa Blanca Cartel is one of the Factions in Ghost Recon Wildlands.
Description
The Santa Blanca Cartel is one of the most powerful drug operation and is a well-oiled machine. It takes several parts moving together in harmony to maintain the power it holds over Bolivia. The narrative team has done an amazing job giving personality to the people behind these moving parts. Sam Strachman, the Narrative Director, had this to say about the process:
"We looked at the hierarchy of the cartel, all the roles that needed to be filled, all the jobs, and we created personalities around each of these jobs."[2]
In the fiction of Wildlands, the right friends an enough violent force of arms has turned the country of Bolivia into a "narco state." When the Santa Blanca Cartel moves in, lead by a brilliant and brutal mountain of a man called El Sueno, it becomes the world's largest producer of cocaine virtually overnight. In Bolivia, the powers that be quickly bend to El Sueño's will and before long he and his lieutenants have infiltrated many sectors of government. The only check on the Santa Blanca Cartel's power is foreign intervention by the U.S. Central Intelligence Agency.
It's the CIA, as part of a interdepartmental task force with the Drug Enforcement Agency (DEA) and Joint Special Operations Command (JSOC), that brings in the Ghosts and the story revolving around the cartel.
List Of Members
References