The Santa Blanca Cartel is one of the Factions in Ghost Recon Wildlands.
Description
The Santa Blanca Cartel is one of the most powerful drug operation and is a well-oiled machine. It takes several parts moving together in harmony to maintain the power it holds over Bolivia. The narrative team has done an amazing job giving personality to the people behind these moving parts. Sam Strachman, the Narrative Director, had this to say about the process:
"We looked at the hierarchy of the cartel, all the roles that needed to be filled, all the jobs, and we created personalities around each of these jobs."[1]
In the fiction of Wildlands, the right friends an enough violent force of arms has turned the country of Bolivia into a "narco state." When the Santa Blanca Cartel moves in, lead by a brilliant and brutal mountain of a man called El Sueno, it becomes the world's largest producer of cocaine virtually overnight. In Bolivia, the powers that be quickly bend to El Sueño's will and before long he and his lieutenants have infiltrated many sectors of government. The only check on the Santa Blanca Cartel's power is foreign intervention by the U.S. Central Intelligence Agency.
It's the CIA, as part of a interdepartmental task force with the Drug Enforcement Agency (DEA) and Joint Special Operations Command (JSOC), that brings in the Ghosts and the story revolving around the cartel.
List Of Members
Pillars of power / operations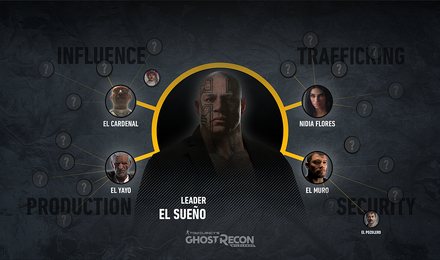 In order to maximize their efficiency and maintain tight control over the people working for them, the Santa Blanca Cartel is organized into four distinct operations: production, trafficking, influence, and security. Each operation is based in different territories and is led by a head of the operation who reports directly to El Sueño. Below their rank, the Buchones (the Bosses) facilitate the cartel's day to day operational activities across the game's 21 provinces.
This firm hierarchy is one of Santa Blanca's greatest assets, but even the strongest walls have cracks. You will have complete freedom to pick which enemy you want to face first, but choose wisely. Every operation is different from the other driven by unique Characters and motivations.
As a Ghost, your mission is to destabilize each of the cartel's branches until the heads of operations have no other choice but to show themselves. Successfully tackle your missions and maybe even El Sueño himself could be within your reach. But first, you'll need to get briefed on each operation and know their ins and outs before you can end the Santa Blanca Cartel's business once and for all.[3]
Production
The foundation of the Santa Blanca Cartel is production, the branch that deals with the raw materials used to build the cartel's empire. This operation performs every step of transforming a coca leaf into its white powdery counterpart. To achieve this magic, production uses a large network of coca fields, laboratories, and hideouts, and Santa Blanca's henchmen supervise the work of the cocaleros, or farmers, to ensure they meet the production demands by way of threats and extortion.
Production is headed by El Yayo (the Grandfather), an ex-cocalero who became a cocaine producer. Formerly a coca union leader, El Yayo is the highest-ranking Bolivian inside Santa Blanca and he works closely with La Gringa, a disgraced American chemist. Learn more about El Yayo here.
Influence
The influence branch manages the cartel's recruitment and public image through manipulating religion, corrupting education, controlling the elite, and even operating a humanitarian non-governmental organization (NGO). Influence leaders are often found in churches, monasteries, sanctuaries, and NGO camps, preaching El Sueño's words and trying to convert people to the Santa Muerte cult. Their mission is subtle but clear: they propagate all Santa Blanca's dreadful actions as divine acts, making people believe El Sueño is a saint who really cares about their well-being. Despite their sweet lies, some of the cartel's doings are too much for the people to digest.
El Cardenal is in charge of influence branch, and is the direct spiritual advisor to El Sueño. Excommunicated by the Catholic Church for preaching Santa Muerte doctrine, his religious background makes him perfect for winning the hearts and minds of the people. Despite his traditional appearance, El Cardenal is also very aware of the crucial role of mass communications for disseminating the cartel's propaganda. That is why he relies on the smooth talking , DJ Perico, the official DJ of the Santa Blanca radio and his henchman, to communicate his teachings. Similarly, El Chido, a Narco-Corrido singer, adds the music to a finely tuned propaganda machine, playing epic songs about El Sueño and his alleged exploits. You can learn more about El Cardenal here.
Trafficking
Trafficking deals with money laundering, packaging and the transporting of final products both within the country and internationally. They own processing plants, shipping stations, railways, and airports. Trafficking makes sure the product always flows to where the demand is, and they use the most dubious and creative ways to ship drugs to satisfy that demand. Air, land, sea – and even under sea – nothing can stop them.
Nidia Flores, the fearless Beauty Queen, is the head of trafficking. Smart and manipulative, Nidia rules the drug transportation business with efficiency along with her right hand, El Boquita. Learn more about Nidia here.
Security
Security makes sure that every division of the Santa Blanca Cartel can operate in safety by taking care of issues rising with the Kataris 26 rebels and the government's Unidad forces. Their duties also include protecting both departing drug shipments and incoming money to keep Santa Blanca's business flowing. This branch is heavily armed and often operates in outposts, sicario's houses, prisons, camps, and road checkpoints. If you become a problem for the cartel, you will receive a visit from security and it won't be pleasant, that's for sure. Just pray that you end up dead instead of being tortured in one of their prisons.
El Muro (the Wall) is the head of security. Personal bodyguard and childhood friend of El Sueño, he's cold and professional, and is the cartel equivalent of a Ghost. His little brother, La Plaga, works closely with him. Learn more about El Muro here.
References