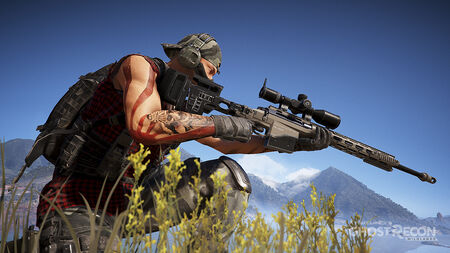 The various Weapons in Ghost Recon Wildlands. Enhance your Ghosts' arsenal to fit every situation while fighting the Santa Blanca Cartel.
With more than 50 customizable Weapons to choose from, the game doesn't impose any choice of classes, and you can adapt your playstyle according to your missions. For example, you can use your sniper to stealthily attack a camp by night, then attack a convoy with a machine gun. It's totally up to you! As you progress, you'll be able to unlock new weapons — along with attachments — to enrich your experience. You can also loot your enemies' weapons if you feel like it.
The Gunsmith is available at any time in the game menu. Inside, you can get an overview of your arsenal. You'll be able to compare your weapons so you can ensure you're making the right choice. Many statistics are also available: damage, accuracy, handling, range, rate of fire, noise reduction, and penetration. All can have a real impact on your actions.
Weapons customization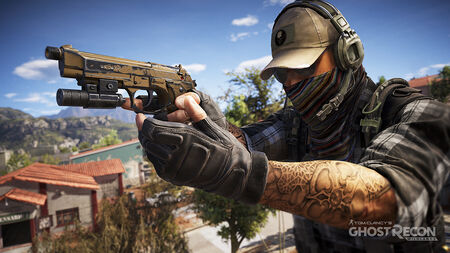 Ghosts are equipped with two primary weapons along with a secondary one, allowing you to switch at any time to adapt to the situation. The game offers a wide choice of weapons, including the following list of weapons below.
As you progress, your weapon's paint gradually ages over time, becoming marred with dust, grease, and scratches. If you like to keep things neat, you'll be able to clean and repaint your weapons at any time by accessing the menu. One of the most exciting features of the Gunsmith is its selection of attachments. The game offers more than 100 attachments (scopes, magazines, stocks, barrels, and more) that you can use to equip your weapon, creating a real impact on your gameplay. Over 10,000 combinations are possible. Some attachments add special modes to your weapons and can be activated on the go. To name just a few, you'll be able to adapt your sniper scope, choose your firing mode, and enable or disable your suppressor or the grenade launcher on your assault rifle.
List Of Weapons
Primary Weapons
Secondary Weapons
See Also